John Lucas Memorial Ultra and Relay
Race Director Craig Hamilton
Individual Ultra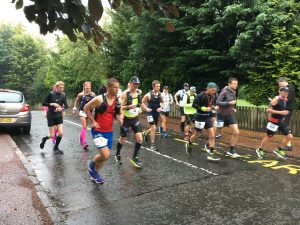 This year we have a fantastic new route bringing 3 off road sections to the race.
The route is circular, starting and finishing at the Strathaven Brewery, ML10 6PB.
The race takes you through the Whitelee Windfarm, entering at the Ardochrig end and exiting at the Visitor Centre, Eaglesham. This Section gives views to Arran, Ailsa Craig and Ayrshire to the West, Greater Glasgow, Ben Lomond and The Campsie Hills to the North. Look South and you'll see Tinto Hill.
The Course varies from road to trail and includes a 11 mile section through the Whitelee Windfarm.
The cut off time for the Ultra race is 10 hours.
There will be 4 Checkpoints with drop bag facilities for the Ultra Race, the checkpoints and drop bags are at the relay change over points.
Drop bags will be transported by the Race Organisers.
Individual entries are £30.00
Relay Race
The Relay Race requires 5 runners following the same route as the Ultra, a maximum distance of 10 miles per leg.
The Relay Change over points are below:
Strathaven Brewery to Ardochrig 10 miles trail and road
Ardochrig to Visitor Centre, Eaglesham 11 miles all trail
Visitor Centre, Eaglesham to Auldhouse 9.7 miles road
Auldhouse to Stonehouse 10 miles road
Stonehouse to Strathaven Brewery 6.40 miles trail and road
The cut off time for the Relay race is 9 hours.
Relay entries
The Team Leader should complete the registration process and provide all requested contact details, you are also requested to provide a Team name and details of the team members.
Team entries are £70 per Team.
We look forward to seeing you on the start line.
Please join us on the JLM FB page and JLM Strava Group… If you haven't already.